When conducting keyword research for a client it is common for an SEO (or even a general business owner) to turn to a keyword research tool and start looking up search volumes on keyphrases that come to mind. Some may take it a step further and actually evaluate the keyword effectiveness index (KEI) of each keyphrase to determine the competitiveness and feasibility of a term. All too often those two metrics, search volume and KEI, are all the consideration an SEO might take into accountability before making final judgments.
It's important to take a step back and look at the big picture when conducting keyword research for a search engine optimization campaign. Optimizing a Website for a keyphrase nobody is looking for is obviously something you want to avoid but optimizing a Website for a keyphrase that is irrelevant to your content and/or business model is something often overlooked.
TYPES OF SEARCH QUERIES
The intent of the searcher is imperative to understand when conducting keyword research. Knowing the intent of the search queries that people are finding your content through will allow you to adjust your content, semantic structure, and call-to-action to fit your users needs.
There are three main types of search queries:
Informational – People researching information for a purchase or for general research.
Transactional – People searching with intent to take some form of action likely in the form of commerce.
Navigational – People searching for a particular site or brand.
If you've optimized your page for a certain keyphrase but find that most long-tail keyphrases that contain your main keyphrase have completely different intent when visiting your site you may see a high-bounce rate and low conversion. Traffic and rankings are therefore rendered useless at this point if you can't serve the needs of your visitors.
Microsoft adCenter Labs has a decent tool on detecting commercial intent of a search query.
SEARCH BUYING CYCLE
(thanks to Search Engine Guide for this image)
Capturing searchers in the right part of the buying cycle is a crucial element in deciding which keyphrases to optimize your content, site, information architecture, etc. for.
Typically, searchers go through three phases before deciding to make a purchase online.
Interest
Research
Purchase
At the interest phase, people are using very broad terms to start collecting data on a product or service they may be using or purchasing in the future.
For example, a search on "gaming consoles" will bring up results that will likely be weeded out to find the informational related pages about gaming consoles.
At the research phase, people have refined their searches from the interest phase to search for more specific terms such as "Xbox 360 and Playstation 3 reviews" to find out more information they have learned since their initial interest.
At the purchase phase, people are looking to buy a product or service and will be refining their queries to do so. An example may be "cheap xbox 360" or "buy xbox 360 in [city]".
As you can see, ranking #1 for "gaming consoles" is great but if it's strictly an e-commerce page that's ranking with intent only to sell gaming consoles then you may have high-traffic but a low conversion rate on your site. Ranking for broad terms doesn't always provide the best value. It's the long-tail phrases in the purchase cycle that really drive high conversion and ROI as you can see below: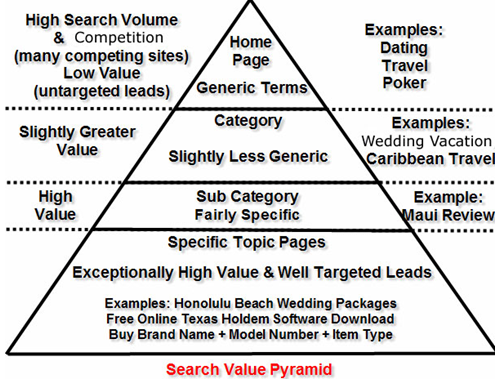 (thanks to Aaron Wall of SEOBook for this image)
Additionally, website optimization is going to be a key element that take the traffic that you are receiving and turned them into qualified conversions.
CONCLUSION
When conducting keyword research think again before immediately being drawn to phrases with the highest search volume. Consider KEI, the commercial intent, and which part of the buying cycle that keyphrase belongs to.